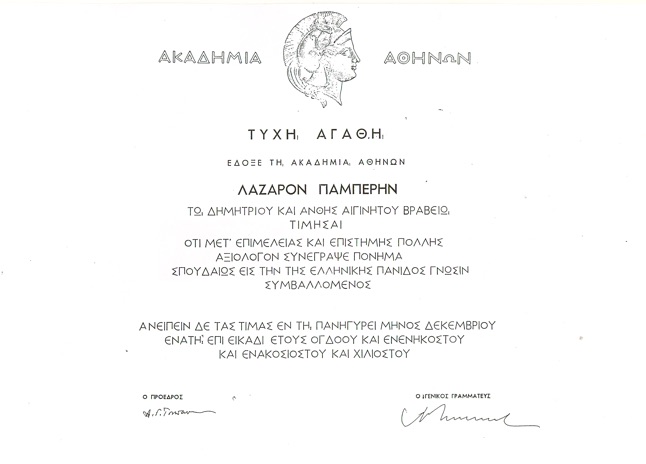 ---
Award given 29 XII 1998 from the Academy of Athens for the first edition of the book: THE BUTTERFLIES OF GREECE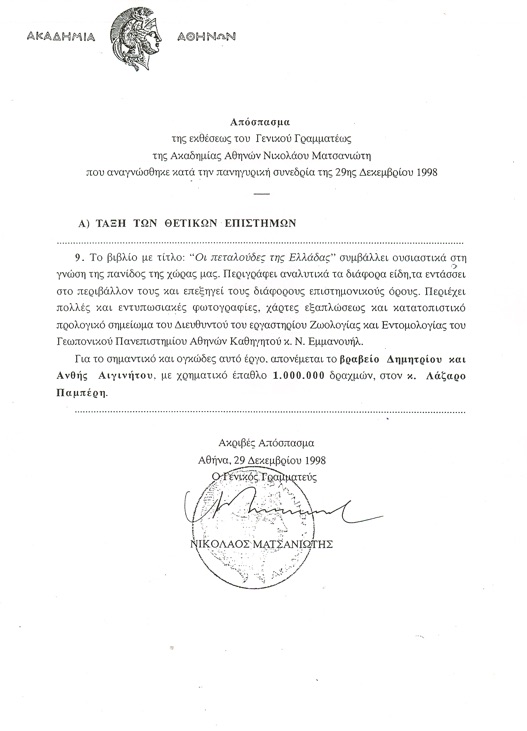 ---
The European Marsh Award for 2010 was given in 20 XI 2010 in Churchill College of Cambridge of UK, from Butterfly Conservation, for Distinguished Service in the Field of Lepidoptera Conservation and Research in Europe.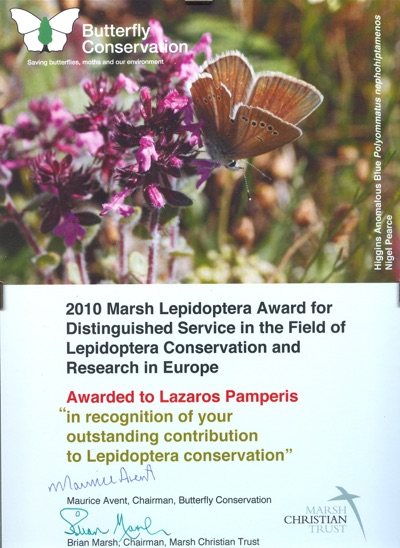 ---

Press Release
Cambridge November 20, 2010
Greece's Butterfly Expert Receives European Conservation Award
Lazaros Pamperis, Greece's foremost authority on butterflies, has received a highly prestigious award for his incredible contribution to the world of butterflies – without a car, a butterfly net, or any technical camera equipment. Despite conducting his research on foot, he has written a book entitled "The Butterflies of Greece"; giving distribution maps for all the 234 species found in his native country as well as the accumulated wisdom of many years in the field.
Lazaros travelled to the UK to attend Butterfly Conservation's Annual General Meeting at Churchill College Cambridge, where The 2010 Marsh European Award was presented to him by Butterfly Conservation; an international charity dedicated to protected butterflies and moths, many of which are in severe decline. The award is for 'lifetime service in the field of Lepidoptera research and conservation in Europe'.
Lazaros has dedicated his life to butterflies, coming to admire them after spending much of his free time as a mountaineer and later exploring the mountains and islands of his native Greece to meticulously record all the butterflies he has seen, carrying his tent and sleeping bag with him.
Dr Simon Spencer, Chairman of the Butterfly Conservation European Interest Group, saidWhat is amazing is that not only has Lazaros almost singlehandedly produced an atlas of the butterflies of Greece, he has done it without a car and without using a butterfly net. His book is not only packed with valuable distribution maps but also full of wonderful photographs – despite the fact he was not able to carry equipment with him to the mountains that many photographers cannot be without. The results are spectacular and add enormously to our knowledge. We are very proud to present him with this award".

It is greatly hoped that the publication of this book will stimulate interest in butterflies amongst Greeks. There is already a steady stream of UK butterfly enthusiasts visiting Greece to see its rich butterfly fauna and Butterfly Conservation's European Interests Group has sent several expeditions there to see rare and threatened species.
For more information please visit: https://www.pamperis.gr

Issued by: Butterfly Conservation European Interests Group (www.bc-eig.org.uk)
For more information, interviews or photographs please contact: Simon Spencer, Chairman of the Butterfly Conservation European Interests Group, on 01691 648339 or cerisyi@btinternet.com.
---