In this web page you can identify the butterflies you have photographed in Greece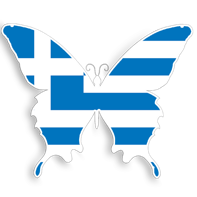 In the above page your photograph can be recognized by a system designed to compare photos with AI (=Artificial Intelligence). My personal data base of photographs had been used for this task.
Accuracy can be improved further by adding to "Photo contribution to Greek Butterfly Recognizer" more correctly identified photos of the users. Users of this page are invited to upload their photos for recognition and send their photos to contribute, because if more photographs are stored, more accurate recognition in predicted.

The results for some of the 236 species of butterflies of Greece are presented grouped in (complexes):
The reasons for this is that there are limits in identification with photos only in this AI (=Artificial Intelligence); Identification of the above species could be improved only after a discovery of new crucial characters on the wings and new tools of the AI.
(vi 2020): Θεοδόσης Μαμάης, Αντωνία Αγά, Κρυσταλλένια Πουγαδάκη, Τάσος Λύτρας, Στέργιος Κασσαβέτης, Χρήστος Δημάδης, Νίκη Μιχοπούλου, Ξενοφών Λεβαδιώτης, Οδυσσέας Τζημούλης.
(vii 2020): Αθανάσιος Ελαφρόπουλος, Χρήστος Τζαφέτας, Αθανάσιος Μαγλαράς, Σταυρίδης Σταύρος.
(viii 2020): Αντώνης Σπανός, Λεωνίδας Παρασκευόπουλος.
(ix 2020): Χρήστος Μαρούλης, Βασίλης Χαλκιάς, Σοφία Απέργη.
(x 2020): Ιόλη Μητσοπούλου, Μαρίνα Μητσοπούλου, Ηρακλής Μητσόπουλος.
(xi 2020): Κώστας Παντελόπουλος, Δήμητρα Ξύδη, Γιάννης Χατζηαθανασίου.
(xii 2020): Δημήτρης Δράζινος.
(i 2021): Πάνος Παλαιός.
(iii 2021): Καλλιόπη Μπορμπουδάκη.
(iv 2021): Θέμις Νασοπούλου.
(vi 2021): Παναγιώτης Δαλαγιώργος
(vii 2021): Ηλίας Τσέλος
(i-xii 2022): Ευάγγελος Αθανασίου, Μαρίνος Γκόγκολος, Μιχάλης Ζαχαράκης, Χρήστος Ζέρβας, Δημήτρης Καλιακούδας, Νίκος Καρδούλας, Νίκος Μαράκης, Κατερίνα Μήρτσιου, Μιχαήλ Μοσχόβης, Χρυσόστομος Μπαιρακτάρης, Ηλίας Νάκας, Ελένη Πάνου, Δημήτρης Τζανογιώργης